Nous avons appris que l'Afrique est un immense continent, avec des paysages très différents d'un endroit à l'autre.
We have learned that Africa is an immense continent, with very different landscapes from one place to the other.
Il y a le désert, avec des grandes étendues de sable, quelques oasis, des chameaux, parfois des pyramides ou des bédouins qui vivent dans des tentes, et des crocodiles dans les rivières!
There are deserts, with large areas of sand, a few oasis, camels, sometimes pyramids or Bedouins living in tents, and crocodiles in the rivers!
Il y a la savane, comme dans notre livre "Boubam et le tam-tam": beaucoup d'animaux sauvages comme les lions, les zèbres ou les girafes, des rivières où vivent les hippopotames, des villages avec des gens qui aiment parler autour des baobabs.
There is the savanna, like in the book "Boubam and the tam-tam": many wild animals such as lions, zebras or giraffes, and rivers where hippopotamuses live, villages with people talking around baobabs.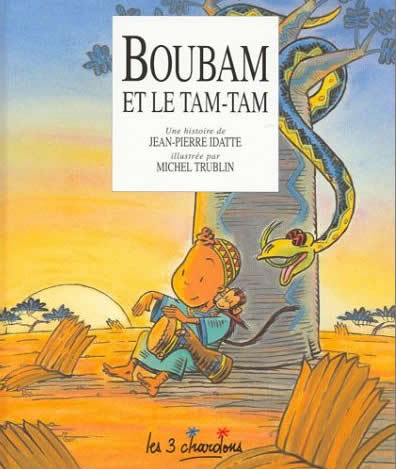 Il y a aussi la jungle, comme dans l'album "Kirikou et la sorcière": de grandes forêts, beaucoup d'eau et de fleurs, des animaux qui se cachent, comme les singes ou les léopards...
There is also jungle, like in the book "Kirikou": great forests, a lot of water and flowers, animals hiding, such as monkeys and leopards...
Finally, there are also big cities, with big buildings and a lot of cars everywhere, like in Cairo, where our Egyptian friends are living. They are very lucky because the desert and the pyramids are not very far either!
We used these discoveries to paint and glue elements onto a fresque we created to represent those different landscapes.