Don't forget to visit the K-1 class blog for more amazing articles! (http://gscpefdm.blogspot.com/)
L'art est très important dans la culture aborigène, lié à la terre et célébrant le "Temps du rêve", qui explique l'origine du monde et de l'Australie.
Il y a la musique, le mime, les costumes, la peinture, la sculpture...
Les éléments naturels sont beaucoup utilisés comme support de décor: écorce de bois, parois des grottes, sol, cailloux, coquillages... On y trouve souvent des représentations d'animaux comme le gecko, le serpent, le kangourou...
Art is very important to the Aborigine culture, linked to the earth and celebrating "The Time for dreams", which explains the origins of the world and Australia.
There is music, mime, costumes, painting, sculpture...
Natural elements are used a lot as support for decoration: bark, cave walls, ground, rocks, seashells... One often finds animal representations such as gecko, snake, kangaroo...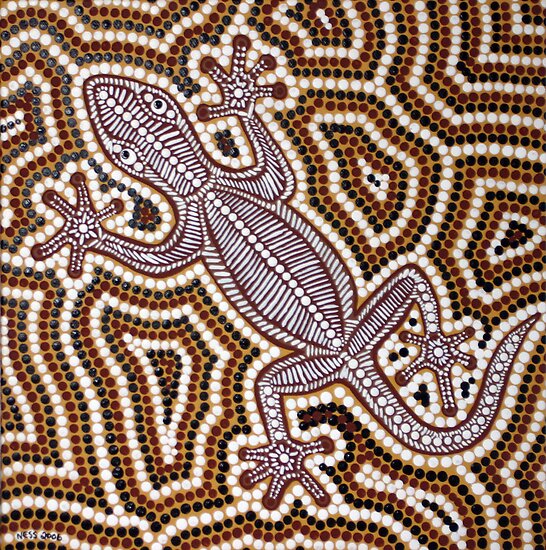 Après avoir lu un conte des origines et écouté la musique étonnante du didgeridoo, nous avons peint et décoré de gros galets et des coquillages.
After reading a story about the origins and listening to the astonishing music of the didgeridoo, we painted and decorated big pebbles and seashells.
Nous avons utilisé des peintures aux couleurs naturelles, comme l'ocre, le vert, le rouge, le marron, car les aborigènes utilisaient des matériaux colorés qu'ils trouvaient dans la nature pour décorer leurs créations: fruits, pierres, terre, feuilles...
We used natural colors of paint they find in nature, such as ochre, green, red, brown because the aborigines used colored materials to decorate their creations: fruits, stones, dirt, leaves...
Nous avons ensuite peint des geckos sur nos pierres ou coquillages peints, et décoré l'ensemble avec des petits points de différentes couleurs.
We then painted geckos on our stones or seashells, and decorated everything with little dots of different colors.
It was very interesting to paint on those new supports we find in nature!